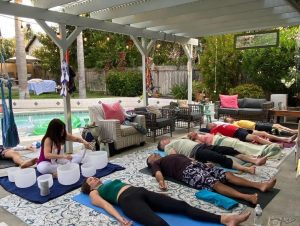 At MamaSita Yoga we hold regular events & workshops.
We can also be a part of your retreat or private event to create unforgettable magic for your participants.
Contact satnam@mamasitayoga.com for more information or inquiries.
Sacred Sound Healing
---
WITH Sita Daspreet and GUests
Great Divine Flow Yoga in Vista, CA
This is self-care. Experience the magic of sound waves as they help soothe the mind, body and soul.
Featuring a healing meditation followed by a luxurious extended sound bath featuring crystal bowls, chimes, gong and other instruments.
Come let the sound waves bathe you in love and healing.
Go with the Flow
---
Yoga, Cacao, and Sound with Sita Daspreet
Moonlight Beach Overlook, Encinitas, CA
Kundalini yoga, cacao ceremony, and sound healing, all while overlooking the Pacific Ocean at the Moonlight Beach Overlook lawn in Encinitas. Start your weekend off with a blissful practice in a beautiful, peaceful location. This is one of our most popular events!
Women's Gathering
---
WITH SITA DASPREET AND GUESTS
Various locations in San Diego County
Women get to receive all the energy and support that they give to others.
These exclusive gatherings are meant to bring together women looking for authentic connection that can sustain them.
Life is stressful, especially if you are juggling home and work life. We get it, and that is why we are creating this space!
Expect restorative yoga, sound healing, sharing, and celebrating.
Come nourish your spirit, and connect to your joy. ✨