Gong Therapy Sessions
As a devoted gong practitioner, Sita Daspreet is passionate about this sacred and powerful offering.
These 1:1 sonic sessions are like nothing else you've experienced. They are not the same as a group sound bath.
Each transmission of sound uniquely crafted to fit your unique needs. There are different ways Sita Daspreet can play the gong for what will support you in each session.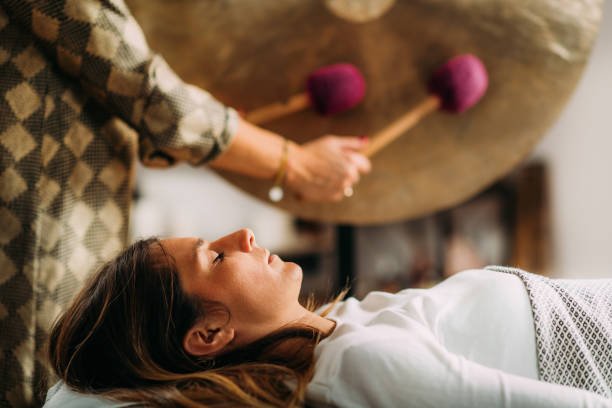 How do I book a session?
Book 15 minute intro call for Sita Daspreet to understand your needs. In that brief call she will go over the basics, and you will choose a specific time, date, and location of your session.
Each gong therapy session is booked for 90 minutes, and can last between 75-90 minutes.
The sacred reciprocity for this service is $200 per session, or, $500 for a package of 3 sessions (which is highly recommended for sustained outcomes and shifts). Monthly contracts are available as well, please inquire for pricing/frequency.
This service is also available for purchase as a gift or to be provided at a retreat or wellness event.
Group Sound Baths hosted by Sita Daspreet can be viewed here.
What to Expect
Upon arrival to your actual session, you will be welcomed, energetically cleared, and grounded so that you can deeply drop into the sound of the gong. You may be invited to use specific breathwork, mudras, or mantras to enhance the focus and outcome of your session. Remember it's all tuned into your needs and no session is the same!
You will lie down on a memory foam mat, provided by Sita Daspreet, and have the option of an eye pillow and being covered in a blanket. There is no specific physical touch required for a session unless you request the blanket and eye pillow to be placed on you. It is very safe, and you will likely feel deep relaxation right away.
After you are grounded and settled, the gong(s) is played for a portion of the time, and you will have time afterwards to integrate your experience with Sita Daspreet before the session is over.
In the following 48 hours you will also have a brief 15 minute follow up call to see how you are feeling and share any additional insights, experiences or breakthroughs!
This is a comprehensive and potent offering!
Why is this different than a group sound bath or sound healing?
This is completely attuned to you and your needs. In a group sound bath it is much harder to ensure efficacy and intentional outcomes. Plus it is a very special space to be so near to a gong while it is played therapeutically vs. generally. There is a cocoon-like vortex of sound that you will be enveloped in. It's like getting a massage but with no human touch, just the sound waves of the gong.
What is unique about a gong vs. crystal bowls?
The gong has been likened to the sound of the universe or the divine. It powerfully moves energy in the physical, emotional and energetic bodies.
Gong sound envelopes, which are created with sound waves and their reverberance, cannot be predicted by the brain like a crystal bowl with a fairly consistent sound wave. The importance of an unpredictable sound current is an invitation for our nervous system and brain to allow access to clear the subconscious and energetic bodies in a way that is largely inaccessible through other instruments like crystal bowls.
Sita Daspreet was trained and certified as a Gong Practitioner for this purpose. Gongs played therapeutically are not "banged" loudly. Nor do they maintain one consistent pattern of mallet strikes, but a specific unique combination of patterns that are tailored to your needs.
As a practitioner that plays both for a career, Sita Daspreet can personally say that the gong has been far superior for her subconscious experience and shifts in her state of being, that is why she loves offering Gong Therapy sessions.
Contact satnam@mamasitayoga.com for more information or inquiries.